Howdy, folks! It's time for us to go home, (big, ugly) home on the range. That's right: It's time for Wyoming. Now, when I think Wyoming, I think of rolling hills, ranches, incredible landscapes, and also that book about cowgirls that Dick Cheney's wife wrote.

On that note:
This beautiful 5 bed/4.5 bath 6,000 square foot house was built in 2002. It can be all yours for around $700,000 USD.

Let's mosey on down through this here estate.
Divorce Lawyer Foyer/Living Room
Now, I've been an architecture enthusiast for about a decade of my short, two and a half decade life and never have I seen something as both absurd and patently useless as whatever the hell that thing separating the foyer and the living room is. Does it have a structural purpose? No. Does it have an aesthetic purpose? Also no.

Kitchen

(Running for president voice) "Folks, when I become president, I assure you that the injustice - the absolute tyranny -  that is the island stovetop/wall oven combo will finally–" (crowd cheering) "– and I mean finally, be put deep into the ground where it belongs."
Dining Room
The aged bronze chandeliers must have been on ultra clearance. Personally, as someone who loves a good deal, I cannot shame them for this.

Master Bedroom

What I can't determine is what they were going for with the sponge paint on the walls. My closest approximation is tree bark, in which case what we see before us in fact is deeply offensive to the trees, who are innocent and don't deserved to be involved in any of this.

Master Bathroom

I don't care how nostalgic we as a culture get for the late nineties/early aughts, sponge paint should never come back. One, it's sponge paint. Two, it is ridiculously labor intensive and frankly we could all be spending our last few years on this still-habitable earth doing something more worthwhile with our time, such as going outside or falling in love or destroying our brains on the internet.
You are seriously not ready for this

When making this picture I realized I desperately need to log off.

Bathroom 2

Computer, enhance.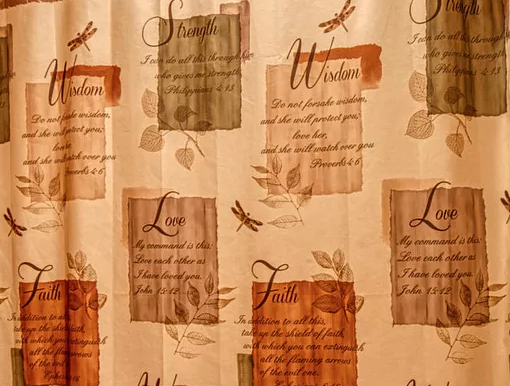 Ok but you can't even read that in the shower. If you're that desperate for prophetic, non-digital bathroom reading material, buy a bottle of Dr. Bronners or, like, a copy of War and Peace.

Basement

Poor Little Julie. :(

Well, that wraps up our interior. Now, for the final frontier, on the frontier:
Rear Exterior

Somehow this house looks more like it's made out of cardboard than the many, many houses on this blog that also look like they're made out of cardboard.

Anyways, that does it for Wyoming! Stay tuned for next week's Brutalism Post, Part II: What Brutalism is Not. Have a great weekend, folks.

If you like this post, and want to see more like it, consider supporting me on Patreon, ESPECIALLY if you also like donoteat01′s content on YouTube, because we will be doing a livestream collab on Patreon on August 25th, 2019 from 8-10PM EST!!!

There is a whole new slate of Patreon rewards, including Good House of the Week, Crowdcast streaming, and bonus essays!
Not into recurring donations or bonus content? Consider the tip jar! Or,Check out the McMansion Hell Store ! 100% of the proceeds from the McMansion Hell store go to charity!
Copyright Disclaimer: All photographs are used in this post under fair use for the purposes of education, satire, and parody, consistent with 17 USC §107. Manipulated photos are considered derivative work and are Copyright © 2019 McMansion Hell. Please email kate@mcmansionhell.com before using these images on another site. (am v chill about this)